THE TURN IT UP! APP
How it works
(click the right arrow to scroll through slideshow)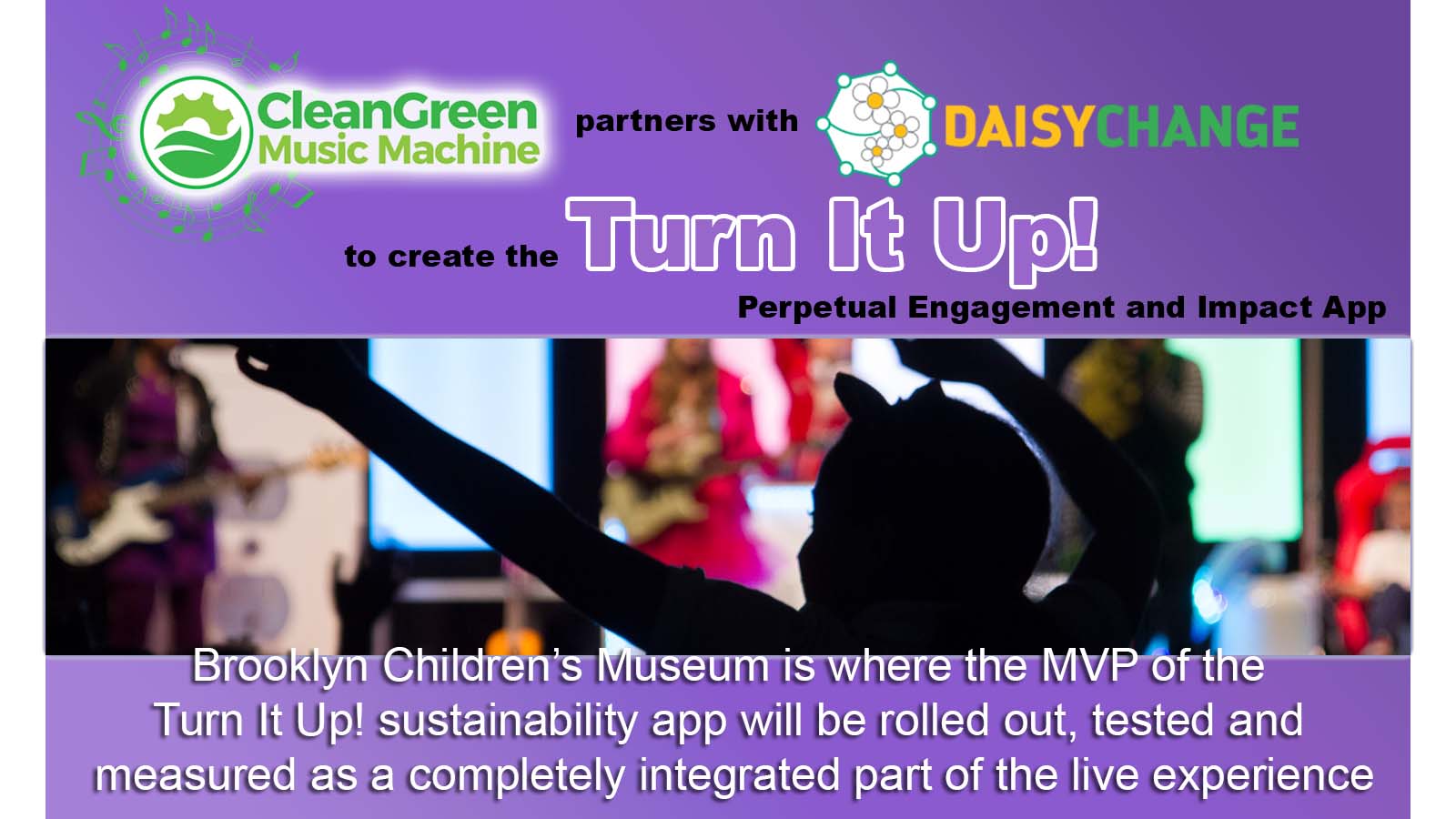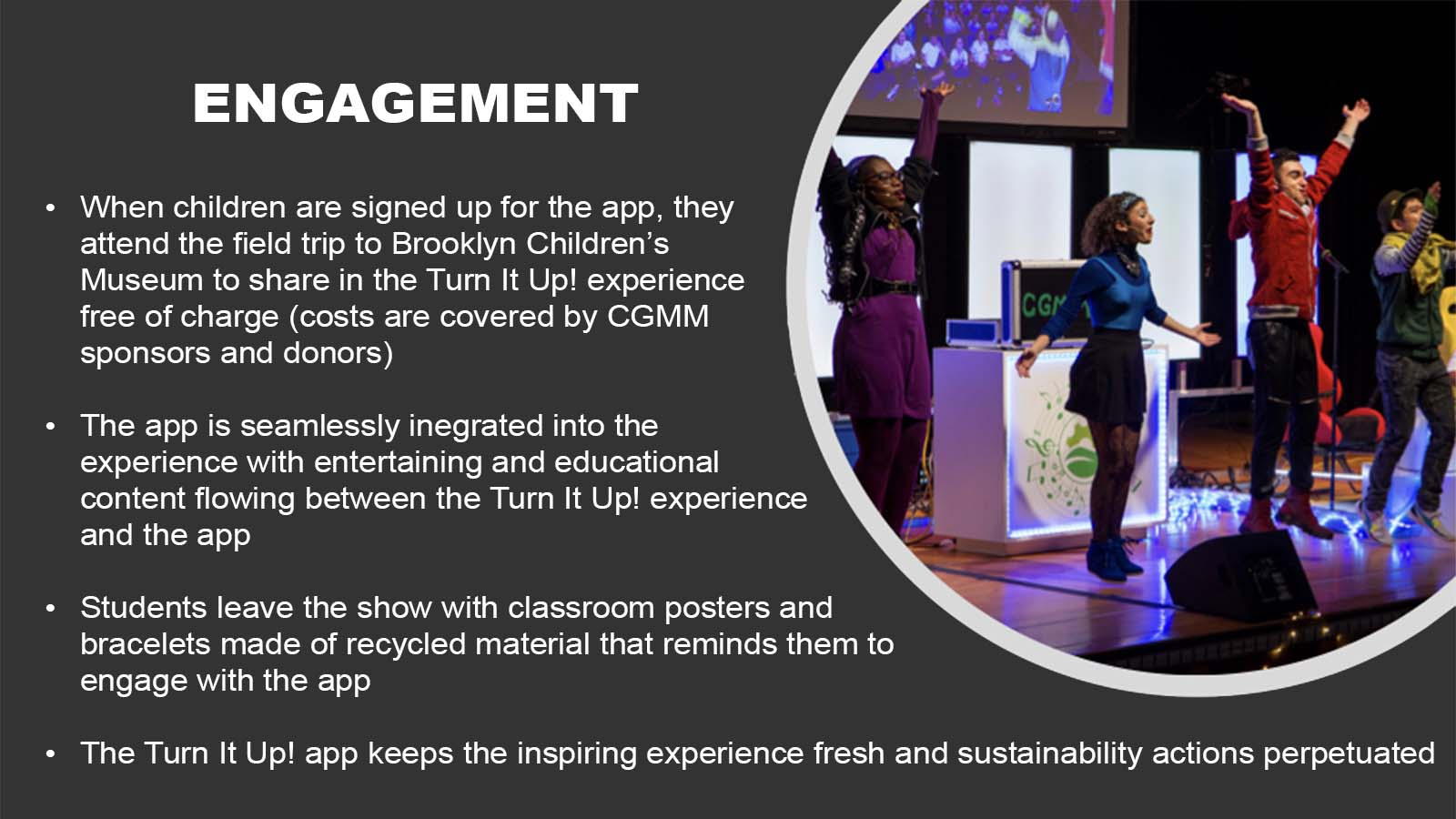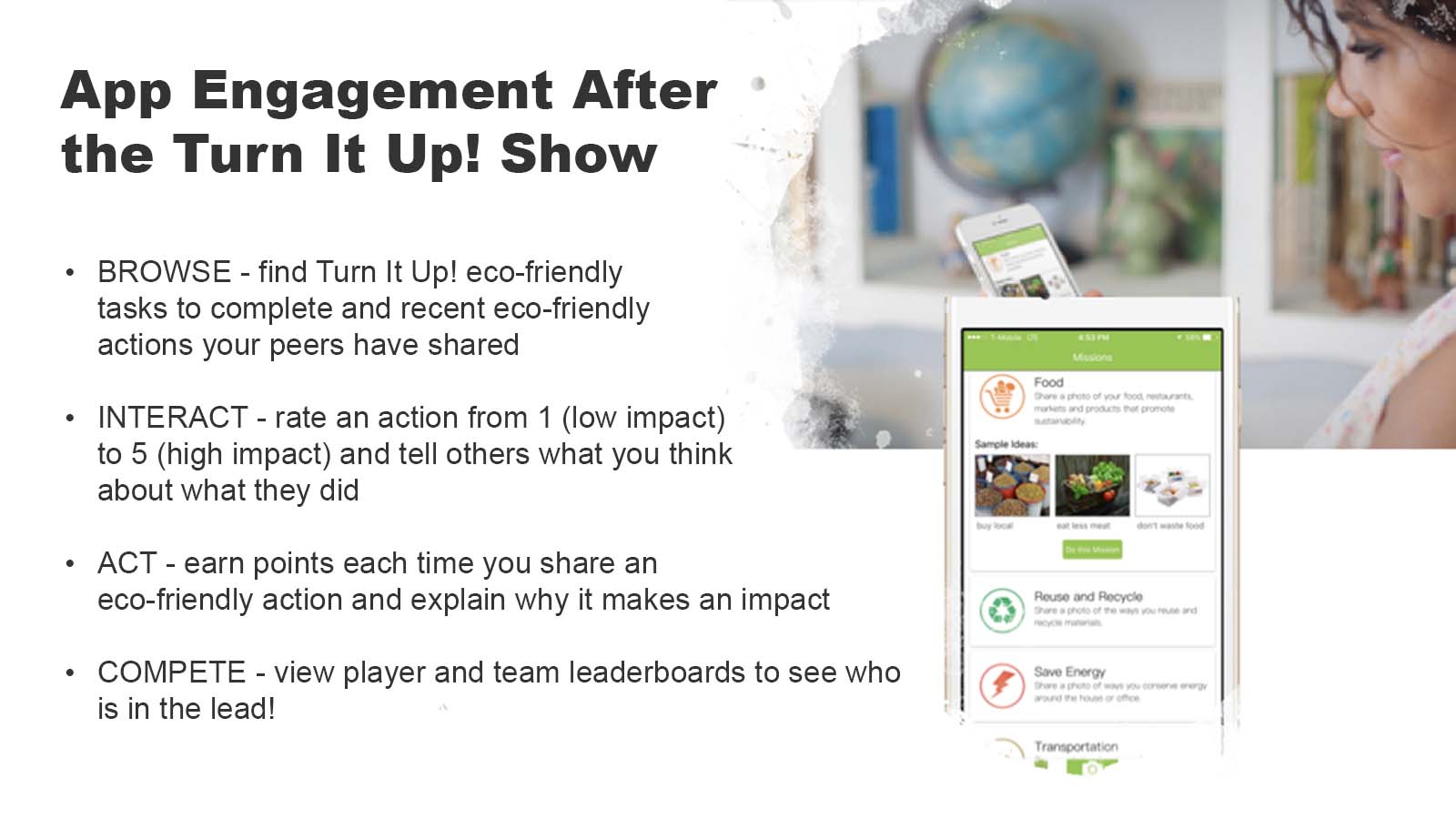 questions and answers about the turn it up! educational app
1. Who is the intended user group?
Educators, Classrooms, Students, and Families
2. What is the sign-up process?
Educators will create a login and add the school to the system
Educators will add students in system and generate an access code
Educators will send home a parent consent form with a URL/link to app and access code for parents to enroll the student in the system
3. Is the TIU app for classroom use or individual use?
BOTH!
4. What if we do not have access to classroom or school technology, can we still come to the show?
YES!
5. What if an individual child's caregiver does not complete the sign-up process, can the child still attend the show?
YES!
6. Does the app follow all COPPA guidelines?
The Turn It Up! App has COPPA Safe Harbor Certification
7. What are the app features?
The app helps you learn about sustainable actions, share creative ideas, and connect with others.
The ACTIONS FEED allows you to find out what recent actions your peers have shared
You can RATE an action according to its perceived impact
COMMENT to tell others what you think about what they did
TAKE ACTION, and earn a digital coin each time you take a picture of an eco-friendly action and explain why it makes an impact
COMPETE, and see which person and team can earn the most in app coins
8. What are the expected outcome?
Learn new ways to take environmental action through gaming and competition, and help meet the goal of zero waste by 2030, set by NYC Department of Sustainability
9. What will the app measure?
Action type frequency (self-reported behavioral frequency)
Influence/impact of the Turn It Up! show in community (ratings, comments)
10. Who has access to the data and measurements?
Clean Green Music Machine and DaisyChange
11. For what purpose will the data/app be used?
Data will be used to determine effectiveness of the Turn It Up! show, and the current iteration of the app: where the platform needs enhancements.
Data will also be used to let sponsors know the environmental impact of their investment without identifying users
12. Will there be push notifications?
Yes, engaging, inspiring content will be sent to motivate students to continue positive sustainability behaviors
13. Are there incentives/motivations for using the app?
Students will learn about environmental stewardship
Students can join a network of climate justice peers and collaborate to create and accomplish new environmental projects
Students will be empowered to become environmental leaders in their own communities, and create the world they want to live in